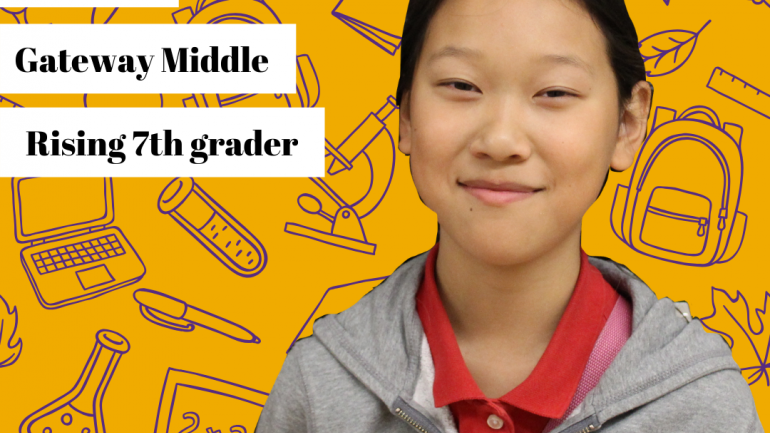 Editor's note: Back in the early fall semester, we first interviewed 6th grader Aram Kim to hear her thoughts on the transition from elementary to middle school, joining the Gateway community, and her goals for the year – with the intent of checking back in in the spring to see how she fared. And what an eventful year it turned out to be! Read below for our follow-up with Aram, conducted via Zoom on the last day of school for GMS.
"To be honest, Mondays are my favorite day of the week," said Aram. "I don't mean to sound like a nerd, but I just really, really like school."
Talking with Aram, it's hard to imagine who wouldn't like school – her enthusiasm has a tendency to spread. Whether she's talking about learning to multiply and divide decimals ("very useful to know"), the cultures and myths of past civilizations (her favorite? Ancient Greeks), or dissecting a chicken leg ("weird but interesting!"), it's clear that her natural curiosity has led her to squeeze every last drop of knowledge out of the sixth grade.
The highlight of the Aram's school year by far, however, was the trip to the Marine Mammal Center in Sausalito after learning about the creatures and their habitats in class. "It was really fun to see marine mammals in person and meet people taking care of them after learning about them in Mr. Yee's class," she said.
But of course, the 2019-20 school year would prove to be unlike any other, and just like students across the region, state and nation, Aram had to adjust to learning from home for the last several months of school.
"I have to admit I was disappointed," she said. "You spend time adjusting to a new school, it was a little overwhelming at first, but then it became fun – and then we just had to go home."
After a little while adjusting to distance learning, Aram realized that she was most successful when she recreated her school schedule. "Basically I put myself on a Monday schedule every day, and it really helps keep me focused," she said, meaning she spends about an hour on each of her classes every day. 
While she said school continued to be interesting through the end of the year, she missed being on campus.
"I can still ask my teachers for help, it's not hard to get in touch, but it's harder to just talk about how your day is going," she said.
Despite the challenges of the year, however, Aram still managed to accomplish virtually all of the ambitious goals she set for herself at the beginning of sixth grade:
Get fours in all classes (the highest grade possible in middle school)? Check.
Participate in the Student Council? "I love Student Council, it's so fun! I'm doing it again next year."
Read 500 books by the end of the year? "I stopped counting but it was around that number."
Build better relationships with teachers and friends? "Definitely."
Run a nine-minute mile? "Not yet, I'm still working on that one."
No worries, Aram, there's always next year.