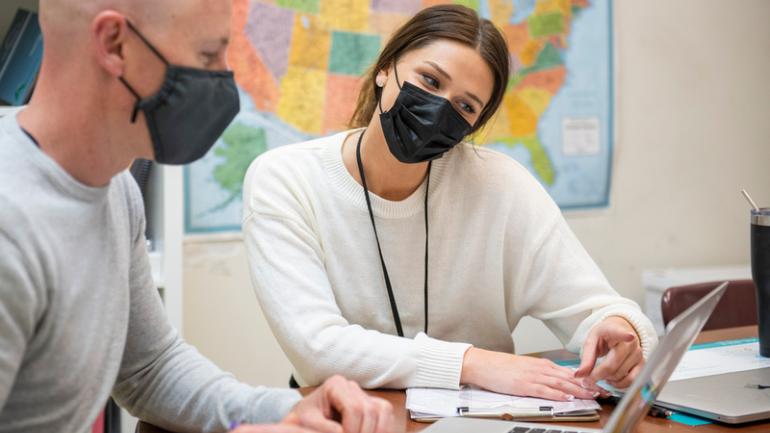 Each year as schools empty for the summer and students head out for camps, jobs, vacations or just enjoying the long sunny days with their friends, they ask the eternal question: what do their teachers get up to when they aren't… teaching? We set out to find the answer ourselves, only to find that there are as many answers as there are teachers. Read on!
Therese Arsenault and Jeffrey Yee (Math, GMS) will spend the summer studying "Thinking Classrooms" – that is, classrooms designed so that students learn to depend more on each other to figure out the solutions to problems than on the teacher.  They will also attend a conference about how to "Spark Joy in Your Mathematics Classroom" to take their learning even further.
At Gateway High, Erin Hartfield will be swapping her teacher hat for her mentor hat, serving as director of Gateway's Summer Learning Academy, helping guide student teachers from the  University of San Francisco through the experience of leading their first real classrooms of rising 6th-9th graders. After that? She's visiting Peru to climb Machu Picchu! Buen viaje!
GHS' Cal Calamia has some BIG goals this summer: running the Pride 5K this month AND the SF Half Marathon in July! He'll also be completing his thesis for his Masters in Writing at USF. But it's not all the grind – he also plans to spend two weeks in Spain writing and working through his "to-read" backlog. 
Jenna Marx, GHS' College Counselor, is headed to Austin, Texas this summer for the American Schools Counselor Association's national conference to learn even more about supporting students through their academic journey and making big decisions about life after high school. She's also going to spend a week writing songs for a new album with her indie rock band!
Mackenzie Day (GMS, Science) will be participating in The Exploratorium's selective Teacher Summer Institute! She'll spend her summer building experiments for her classroom, receiving mentorship from expert science educators, and learning how to infuse anti-racist practices into her curriculum, alongside middle school science teachers from across the country. She's also celebrating her brother's college graduation this year!
GHS Humanities teacher Jeff Sprague is making us all jealous with his plans for an extended family vacation in Hawaii. Hopefully he brings back enough of those chocolate covered macadamia nuts to share with the whole school upon his return.
And the award for teacher venturing farthest abroad may well go to Anastasia Zamkinos (GHS, Humanities), who will be snorkeling in the Gili Islands of Indonesia for three weeks!
One thing we found in common amongst all our teachers, no matter where they roam over the break? An enthusiastic wish for their students to have an amazing summer and excitement to see them again in the fall. Enjoy the break!