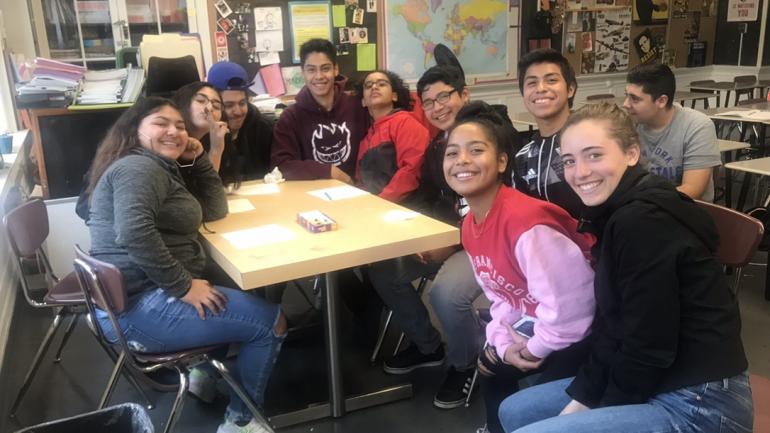 Spend even a little time at Gateway and you'll be able to tell that it's a truly extraordinary school, but why? That's a question researchers from the Learning Policy Institute (LPI), a nonpartisan education policy think tank, set out to answer in their extensive case study of Gateway Middle and High that was published in October. 
Over the course of the 2017-18 school year, LPI researchers studied curriculum, interviewed students and staff, observed lessons and professional development workshops, and generally embedded themselves across both campuses to better understand Gateway's dynamic community and track record of student success. The report details how Gateway's deliberately structured community and emphasis on "noncognitive skills" – like self-advocacy and effective communication – empower students of all backgrounds and learning styles to take charge of their own education.
"The teachers here want to know what you're going through and how they can solve it and help you out…," said one 8th grader quoted anonymously in the study. "They make sure that you're OK, and tell you you're doing fine. So, you just don't feel like you're alone."
What are some of the key elements that contribute to Gateway's success? The study emphasizes:
A positive school climate: Researchers found that the investment of time staff deliberately build into the school day and after hours developing relationships with and among students pays dividends. Gateway students are comfortable both seeking support and helping peers be successful, and teachers get a fuller picture of each student's unique needs.
Deliberately teaching social emotional skills: Gateway teachers provide regular opportunities to integrate social, emotional, and academic skills while at school. By ensuring students are effective communicators, organizers and can reflect on their learning – as well as mastering academic content – Gateway staff set students up to advocate for themselves effectively both in and out of the classroom.
Excellent teaching strategies: The study details the myriad ways in which Gateway staff keep students engaged and motivated to do their best, such as curriculum choices that reflect student interests, identities and values, grading practices that value developing mastery instead of high-stakes assessments, and courses designed to guide students through complex, real-world questions and problems.
"I was so excited to read the draft of LPI's case study, because it validates all of our thoughtful research-based practices in supporting student-centered classrooms and social-emotional learning," said Suzanne Herko, who teaches Humanities and Learning Seminar at GMS. "It underscores that our students' success doesn't happen by accident – it is based on best practices and the efforts of our staff, families and community."
The case study is a follow-up to a 2018 LPI report detailing how schools can foster achievement for all students – in particular those who need support overcoming stress and trauma. Gateway Middle and High were selected as two of only five schools nationwide that exemplify these practices and have a commensurate track record of student success. Read the executive summary here and the full report here.