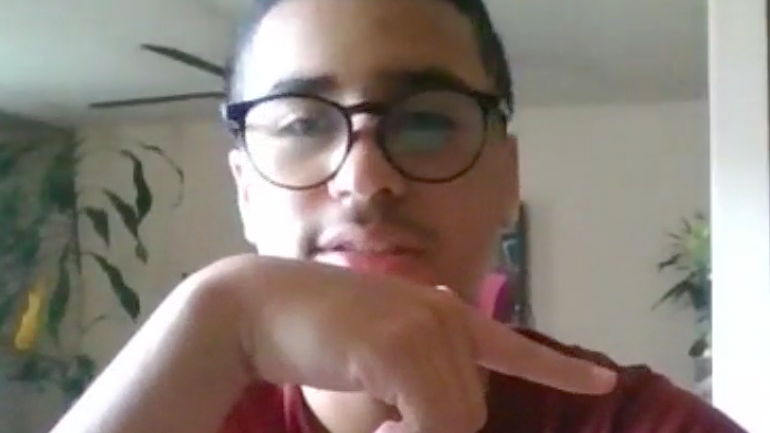 Starting sixth grade is a big deal: a new school, new expectations, and some of those eighth graders can seem awfully intimidating! "We wanted to honor how important a transition that can be," said GMS Counselor Ken Angelo, who started and leads the "Where Everyone Belongs" (WEB) program to help Gateway's newest and youngest students learn the ropes as they begin middle school. This is a tall order for each new cohort, but as with so many other things this year, students and staff faced a particularly puzzling challenge: how do you help students feel connected to school when everyone is still staying home?
The backbone of the WEB program each year is a group of exceptional eighth graders (WEB Leaders) who make a more than year-long commitment to helping incoming students navigate the academic, logistical and emotional challenges of sixth grade. Students apply in the middle of their seventh grade year so that they can begin to train in the spring. "We look for students who above all are kind and respectful, and who are enthusiastic about helping others," said Ken. "They have to devote time during the year and a whole week during the summer when they could be sleeping in otherwise. It's not an easy thing."
"I remember when I was in the 6th-grade orientation that I was very nervous about 6th grade and middle school in general. My WEB leaders helped me lose that nervousness, and feel comfortable going into middle school," said Ernesto, a 2020 WEB Leader. "So this year I decided to do it as well. I wanted to help students that are new to middle school adapt and enjoy this new and different environment."
While WEB Leaders generally receive some preliminary training in the spring, the closure of school campuses and rapid pivot to distance learning meant students would need to rely on summer training, often navigating technical difficulties as Gateway transitioned to more permanent technologies for the 2020-2021 school year. 
"This group of 8th graders were really awesome in being adaptable and flexible," said Ken. "They were game to try something totally new that hadn't been done before."
After a few days of summer preparation, WEB Leaders hosted GMS' first virtual sixth grade orientation on August 16, swapping in-person tours and games for Zoom counterparts, and relying on their training about "flexible thinking" to adapt to tech issues and last-minute scheduling changes in the moment. The WEB Leaders continue to host virtual game and movie events throughout the fall, which are well-attended by sixth graders.
"The thing that I have enjoyed the most is being able to collaborate and talk with other students," said Ernesto. "With distance learning, it's been hard to socialize in class, but in WEB it's different … (we have time for) being productive and planning events, but we make time to just talk and have a good time."