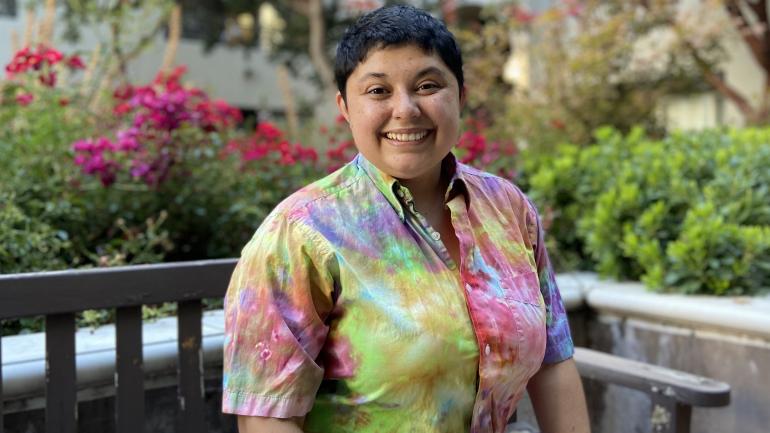 With just one complete school year of full-time teaching under their belt, Ferris McIntyre is still fairly new to the teaching profession, but they're not at all new to Gateway. . A recent graduate of the University of San Francisco's Dual Degree in Teacher Preparation Program, Ferris completed all of their required classroom observation hours and student teaching semester at Gateway schools, and was so impressed by the school community they applied to stay and begin their teaching career in earnest. We sat down with Ferris for a conversation about becoming a part of the Gateway community and growing as a professional in the midst of a history-making year.
What brought you to the teaching profession?
As an English Lit. major in college, people would always ask me if I was going to be a teacher, and I used to say "I will be anything BUT a teacher." But a friend of mine was in the teaching program and it seemed really cool, so I enrolled in one class just out of curiosity. And then I was hooked.
One of my professors at USF, who had also taught at Gateway, laid out the math that if you reached maybe five kids in each class-- which, frankly, would be unacceptably low-- that's still 20 lives you're changing in a year,  or 200 people's lives across ten years. And if you're actually good at the job? The difference you can make is incredible. 
What drew you to Gateway, and what made you want to stay after your student teaching was complete? 
I was really impressed by all the teachers I observed, and I'm so grateful that Paul Heasman offered to my teacher mentor. He has a tendency to throw you into the fire in a good way -- he had me lead a small group of students on my very first day! Paul was always honest about the challenges of teaching, but also very encouraging; he made it clear he did not want to see his mentee quit after their first year in the classroom!
I love the mentality that folks have at Gateway that we are teaching to change things, that we are empowering students to be independent adults who can make big changes. That really set Gateway apart, along with a better pay grade and smaller class sizes. That's what everyone hopes for, really. Plus I already knew many of the students and I knew they needed a new faculty advisor for the Dungeons and Dragons Club.
What kind of support did Gateway provide through your first year?
Even before the year started, new teacher orientation was incredibly helpful. And I've loved having Jeff Sprague as my coach this year. We sit down for an hour every week and talk about what I'm trying in the classroom and how it went, his observations, and my goals and research. It really keeps me grounded, whether it's figuring out together why something went wrong and what I can try differently, or sometimes just getting that affirmation that kids will be wild on occasion for no reason at all.
What was it like having to transition to distance learning in the middle of your first year teaching?
For a second it was great -- I could get more sleep! Then it set in that "Oh wow, we have to prepare everything from scratch, this is a totally new way of teaching AND i'm going to need to do so much more outreach to students and parents." I worked really closely with my planning partner Eliza to take a hard look at our curriculum and make tough choices about what I want my students to be able to learn, versus what they need. It's scary to think you might get that wrong, and I wouldn't be a teacher if I didn't think everything we cover is really important, but it was necessary. But I learned a ton about how to help my students stay organized, and how to differentiate for students' individual needs. I feel I can manage distance learning much better now, and I know how to prepare for distance lessons, but it's still a work in progress.
Any advice for the new cohort of first-year teachers?
Don't expect everything to be perfect, because it won't be. Failures are good things as long as you learn from them, and when it gets tough, remember why you started on this path in the first place.