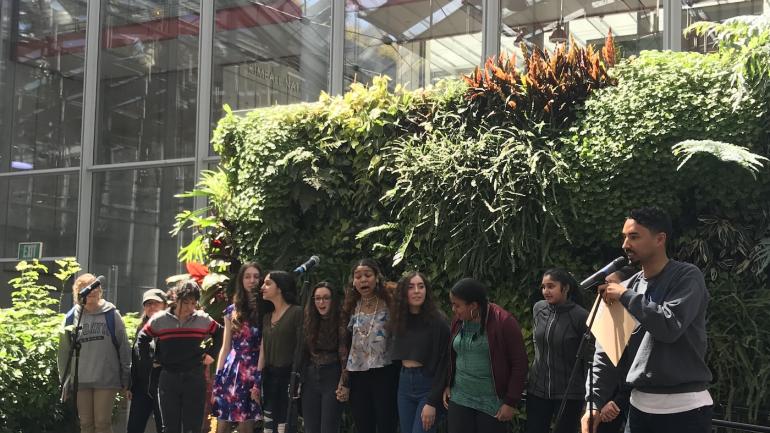 Gateway High School (GHS) is celebrating the victory of its Slam Poetry Club, whose team recently earned first place at the Outta This World Poetry Slam, held at the California Academy of Sciences in May.
For those unfamiliar with the form, "slam" poetry is a style meant to be performed live, and can incorporate audience participation, improvisation and music; it generally is performed in competition against other artists. Gateway students learn about slam poetry among many other forms in the creative writing elective, and especially passionate students participate in the poetry club, facilitated through a partnership with Youth Speaks.
As part of the 2019 Max Fest SF, a city-wide celebration of science and art, the Outta This Word Poetry Slam challenged students to compose poems on the theme of "outer space." GHS was represented by senior Malik Payton, and freshmen Amina Fuller, Najeeba Shaikh, and Margaret Wong. All Gateway students scored well, with Margaret and Amina receiving the first and third-highest individual scores of all participants respectively, leading to an overall team win.
"At the beginning, I was pretty nervous, but everyone was so supportive and were saying things like 'you go, poet!'," said Amina, whose poem centered on the crisis in the Middle East and questions about land and space. "So I took a deep breath and felt like 'okay, I got this.'"
Amina says it was her relationships with her writing teacher and her Poet Mentor from Youth Speaks that allowed her to feel comfortable enough to try performing.
"(Poet Mentor) Sandy always helps me, and her main message is that everyone's voice is important and everyone deserves the chance to be heard," she said.  "You could write about grass and she would find a way to show you it could be an amazing and inspiring poem. For me as a high schooler and a girl of color, it's just really good to have that opportunity."
After her positive experience this spring, Amina plans to become even more involved with the team next year, and hopes other students will be encouraged to explore poetry.
"I honestly thought I would be kind of bad at writing poetry, but after getting so much support from the other students I feel like a much more confident student and writer," she said. "Even if you think it's not for you, you can get a lot of inspiration from the club and it could open a lot of doors for you."
Check out this video of the GHS team's top-scoring performance!