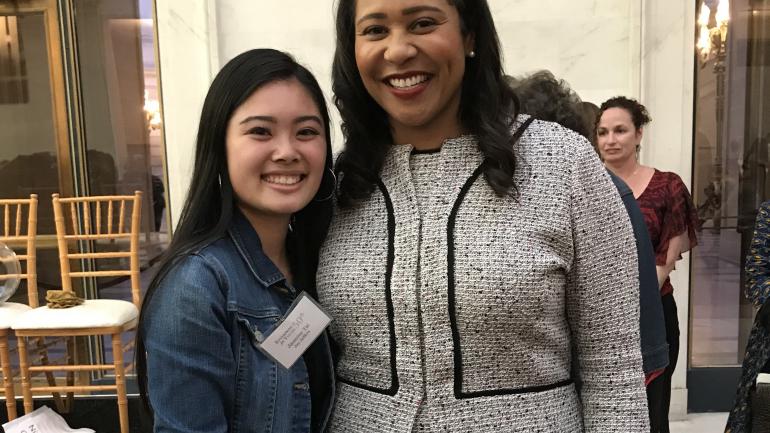 Jasmine hasn't even started her senior year of high school yet, but her resume is already three pages long. As one of the first students to take advantage of Enterprise for Youth's job-readiness programs when the organization first partnered with Gateway High School three years ago, she's gained work experience in horticulture, interior design, retail and more, all before many young people have even had their first job interview.
"The more experience I get, the more interests I'm able to discover," she said. "The hard part is going to be narrowing it down."
Enterprise for Youth is a non-profit that has operated in San Francisco for over four decades, connecting high school students with internships, leadership opportunities and the training to thrive in them, so that when they graduate they can head into college or the workforce with both a strong resume and academic track record (as well as some cash!). All internships involve a SF City College coursework component as well, exposing students to college-level expectations and self-management skills.
"If young people have had three internships by the time they complete their bachelors, they have far more career pathways available to them," said Nínive Calegari, CEO of Enterprise for Youth. "And those opportunities correlate with early employment and lifetime prosperity."
Before students are placed in internships, they complete a fairly intensive training program that familiarizes them with professional etiquette and dress, cover letter and resume formatting, interview skills, and even how to establish a polished LinkedIn presence. And while Enterprise for Youth does some matchmaking based on employer needs and student interests, students still need to land the internship based on the strength of their interview and application.
"I was definitely not the kind of person who found it easy to be outgoing in interviews at first," said Jasmine. "But after all the practice I've had with Enterprise for Youth it's easy now, almost like a habit."
Jasmine and a small handful of Gateway High students also serve on the organization's citywide Youth Council, an optional leadership development program in which students conduct peer outreach, represent the organization at community events, and help steer the direction of the organization.
"I get to do networking with professionals, represent the organization, and encourage peers to sign up for internships," said Carlos Castanon, a GHS Youth Council member who most recently completed a healthcare internship with UCSF. "It's really opened a lot of doors for me."
While the program is demanding, there are definite perks: for Jasmine, highlights of her Enterprise for Youth experience include meeting Mayor London Breed and seeing President Barack Obama speak at Dreamforce 2019.
"After three years, I can go back to visit my first job (at the Golden Gate Park Botanical Gardens), and there are still people there who are excited to see me and say hi," said Jasmine, who is beginning an online internship with Kaiser Permanente for this summer. "So I've been able to make a lot of friends, and also have a network I can keep relying on."