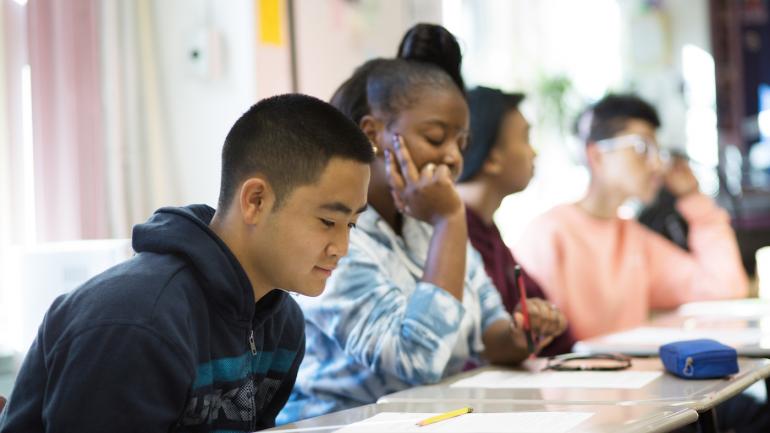 Spend a little time on either Gateway campus and you're sure to notice the friendly folks in blue polos in our halls and among our students. They're our friends from The Boys & Girls Clubs of San Francisco (BGCSF), who partner with Gateway staff to ensure that each student is benefitting from relationships with caring adults and accessing the support they need to thrive in and out of the classroom.
Gateway Middle and High Schools are two of only five school-based BGCSF sites in San Francisco, enabling our students to benefit from not only after-school opportunities, but extra support throughout the school day as well. Additional staff will be coming to the Gateway site in the fall, and some of BGCSF's offerings we're most excited about for the 2019-2020 school year include:
Full-time staff in the GHS Study Cafe, along with volunteers from Salesforce through the San Francisco Education Fund's "Circle the Schools" initiative, which will allow the center to remain open to students all day, five days a week. Students can receive one-on-one and small group help editing essays, studying for big tests, or working on specific academic skills.
BGCSF staff supervising recess and lunch breaks at GMS, offering activities designed to positively engage students and freeing up valuable planning and prep time for teachers.
Enhancing the Burl Toler Scholars program, an existing leadership program designed for students of color at GHS. Thanks to the involvement of BGCSF, Burl Toler Scholars will have access to internships and school leadership roles both at Gateway and external sites next year.
On top of all that, all Gateway students are automatically full members of the Boys & Girls Clubs of San Francisco, entitling them to all program supports including college applications and SAT prep course fee waivers, summer enrichment programming, and dance, music and swim activities at the nearby Don Fisher Clubhouse.
It has long been our conviction at Gateway that community partnerships are one of the most effective ways to close the opportunity gap and level the playing field for all students. Our work with BGCSF affirms that conviction, and is part of what makes Gateway such a special place to learn and grow.