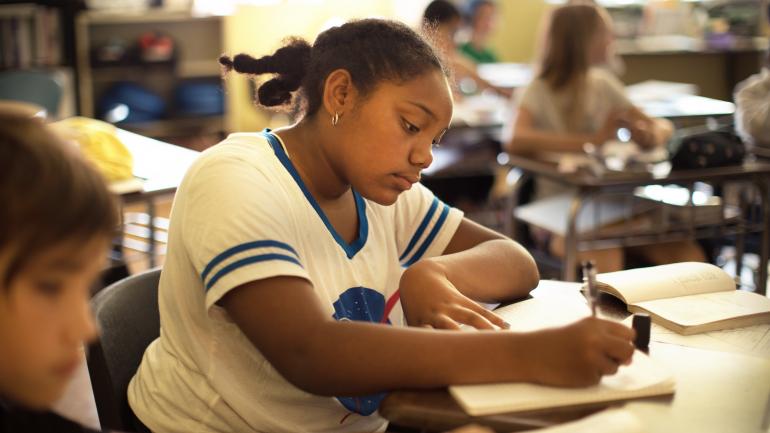 The onset of the COVID-19 pandemic was a huge disruption to school life, but for many Gateway teachers it also presented an irresistible, once-in-a-lifetime learning opportunity with applications in virtually every academic subject. Teachers didn't just pivot to distance learning, most completely rewrote the curriculum they had planned on teaching through the end of the year, looking for ways to engage students with current-events as they developed. 
One such project asked eighth grade students to keep a journal of their experiences while sheltering in place, then construct a "found poem" by artfully re-arranging the entries. A few of these poems are reproduced below, representing the firsthand experience of students living through extraordinary times:
---
Sanaa:

We  have it easy.
At least we get to be stuck inside.
At least we have homes and food and water.
Although we might need haircuts,
Although we may be bored
Although there are people profiting off this tragic occurrence
And although quarantine may seem mundane.
We have it easy.
---
Shada:

same schedule
bored
stuck at home
Procrastinating
Phone phone phone
jealous of my parents
sleep schedule is messed up
But Alhamdulillah
spending more time with my brothers
glad and grateful
for everything.
first day of Ramadan
sun shine
used to staying at home
time flies
Alhamdulillah
---
Linnea:

I also really miss
my friends
We're
relieved
but
This is really worrying
it's still hard to really register
I'm really grateful
bored 
restless
That's obviously not the end of the world
so I'm grateful that I don't have to go through any of that worry and pain.
I'm lazy
tired
restless
anxious
like
I'm
in some other universe.
the same
At first
I had
freedom
but now it's just
repetitive
It's really weird
I'm
concerned
I just can't wait until this is all over 
my routine
has become kind of normal
However,
It gets really frustrating
This is really sad.
I just feel
resigned
I've accepted this
I'm still really disappointed
and
confused
I just want to know
when will my life go back to normal?
---
Brandon:

Despair is in the air
Besides this being a mess, it's a huge stress
I wonder everyday
When will this be over?
I answer myself
Hopefully one day we will be back to normal
I reflect on everything more than ever
I think and think of what I couldn't do
I miss everybody, all of my friends
I look at the news everyday
And see no signs of hope
I live in a mess and a stress 
And I hope it's over soon
Because if not, I will never be the same again 
Despair is in the air
And the air is everywhere
---
Amelia:

You never know how much you love something until it's gone, 
You could say that our country is fine, 
If fine meant that people died, 
What has spawned out of this has been hate, 
It's delicate, a ornate idea called ignorance, 
That has led to mass destruction, or happiness. 
Ignorance is Bliss, they say. 
But they push ideas away, 
It's led us astray. 
It's the devils playday. 
---
Damysha:
haven't been able to do so much
staying home now during this COVID-19 epidemic is boring and stressful
miss going to school
stuck here forever
hope this pandemic will be over soon
really miss my friends too, I don't know when I will see them again
don't like the current situation we're in right now
worried about everyone in my family's health
things have changed
watching the news
feels better to be hopeful than feel hopeless
whole school year and everything got cancelled
concerned about the virus
fasting the whole month
really can't wait until this virus goes away, and we get out of quarantine
I'm praying that this virus completely goes away
people are struggling during these times
deaths are still going up
weird how life has been changing so much
---
Amia:
it's good we're all still alive
it is good
My mom still has to do payroll for her school
workers getting their pay slashed left and right
The only people we should be ridding this world of are the rich
eat them
thought I'd be safe
my mom continues to insist to go out for a walk or to buy things
heard my dad asking if she got hit, like what he heard happen to some of his friends
they're assaulting Asians and now insist on it being a hoax
I chose Gateway over Lowell
Lowell just seems so stressful
playing into a stereotype if I accepted
with the start of high school means worrying about college
depends on whether or not you can pay for it most of the time
I watched "Never Have I Ever" when it came out
the Half of It came out today
Asian American representation in varying degrees
with one level of representation
always something else that has to be changed to accomodate to Western audiences
like
wearing shoes in the house
or a lack of a rice cooker
then again,
everyone's representation is different
---

More poetry, along with historical pandemic research projects, podcasts, dystopian short fiction, COVID-19 safety PSAs and more can be found at the GMS Shelter In Place Showcase website.