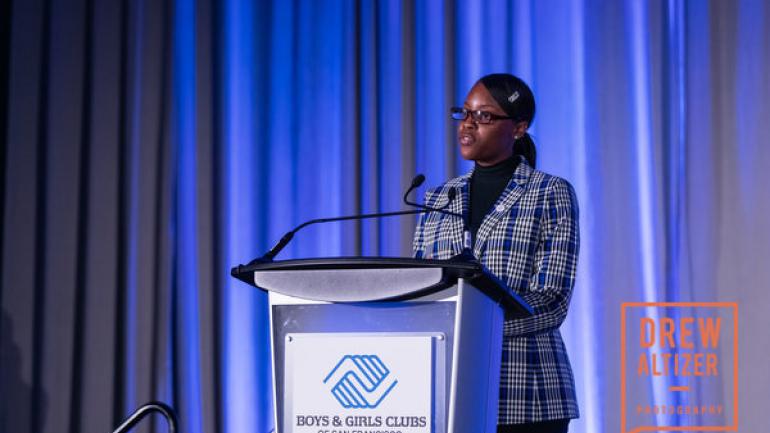 Gateway is celebrating the achievements of GHS Senior Masiyah Edwards, who was recently recognized by Boys & Girls Clubs of San Francisco (BGCSF) as one of the city's eight Youth of the Year. Each year the award recognizes one young person from each BGCSF site for their moral character, community involvement, academic achievements, and perseverance in the face of significant challenge.
Some of Masiyah's earliest memories revolve around the Boys & Girls Club as she became a member when she was only five years old. As a teenager she became more involved, first serving as an after-school leader for young children and then becoming involved with the on-site Clubhouse at Gateway High. 
Masiyah is also an established leader at Gateway, where she has been a student since sixth grade. She currently serves as President of Gateway High's Black Student Union (BSU) among several other extracurriculars.
"I've definitely been able to think about and grow my leadership skills at Gateway," she said. "I've been involved in BSU since I was a freshman but I wasn't really that committed. But then when the leaders graduated it was like 'Wow you gotta step up and take their place, because if you don't Gateway will maybe not have a BSU at all.'"
"Now I think I understand a little bit what our teachers go through every day," she added, laughing. Under her direction the BSU's annual cookout fundraiser brought in over $1,000 and fed hundreds of students and staff – a major logistical feat!
Masiyah was inspired to pursue the Youth of the Year Award by her cousin, who had received the award previously. The program required more than 100 hours after school and on weekends, during which Masiyah connected with mentors to learn how to tell her story effectively and bonded with other participants in team-building and service exercises. Ultimately Masiyah produced three essays and a polished cover letter and resume to be considered for the honor, and worked closely with a speech coach.
"Technically it's a competition," she said. "But it didn't really feel like that at any point because everyone in the program was so closely bonded. I would have been just as happy if any of my friends in the program had won."
While Masiyah wasn't selected to continue to the regional competition, she says the experience was more than worth her time in terms of the positive experiences and scholarship opportunities she's received as a result. When she graduates in the spring, Masiyah hopes to study Criminal Justice and Law at Howard University.
"I became interested in law because I like to argue and I like to win," she said. "But what I really want to be a part of is stopping mass incarceration and helping marginalized youth. I want to be a defense attorney and advocate for juveniles someday. I'd like to help them snip bad decisions in the bud while they're still young."
For now, however, she's focused on finishing high school strong and is deeply appreciative of the teachers and mentors who helped her reach this milestone.
"I always knew I wanted to go to college but if I didn't have such great mentors I don't think I would have made a plan to get there on my own," she said. "But just two days ago my acceptance letter from SF State came in the mail. My mom said 'What are you going to do with that, Masiyah?' and I said 'Oh, just put it with the others.' It felt so good to say that!"