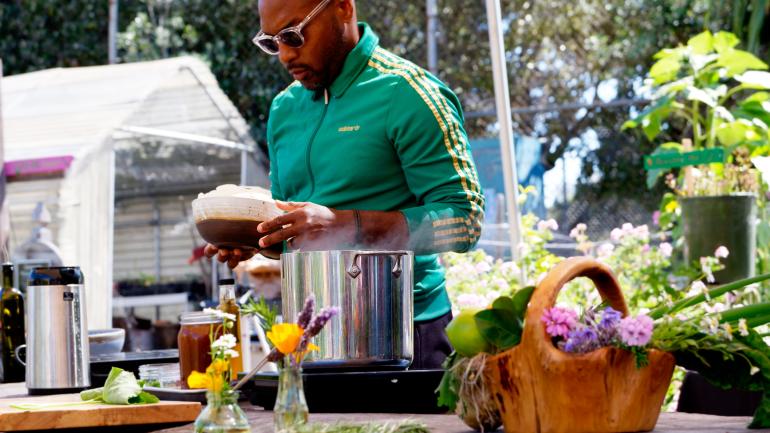 The idea of a "High School Campus Fine Dining Experience" sounds like an oxymoron; for many of us, the thought of high school "fine dining" entails french fries, Cup Noodles and the occasional class pizza party. But Gateway proved that it IS possible at our first-ever Dream Big Salon on May 14 – with some help from our friend and celebrity chef Bryant Terry and the talented Chef Nafy Ba Flatley of the Senegalese restaurant Teranga.
Fifty guests enjoyed craft mocktails and the opportunity to explore the GHS student garden at it's springtime best before joining Chef Terry under the canopied outdoor learning space for a cooking demonstration of his favorite recipe for vegan braised greens (while the fare might have been on the fancy side, this is basically the same set-up students use to cook what they harvest from the garden throughout the year!). 
Guests were then treated to a Senegalese feast by Chef Flatley including mango salad, butternut squash flatbread, empanadas, maffe, yassa with chicken, and perfectly pink hibiscus sorbet. Chef Flatley's restaurant, Teranga, is affiliated with La Cocina SF, a local non-profit that supports women of color and those from immigrant communities in growing the restaurant businesses of their dreams. 
Over lunch, guests enjoyed a Q&A with Chef Terry about food justice in our community, his creative process, and his upcoming year as an Artist Fellow/Visiting Scholar at UC Berkeley as a member of the second cohort of Abolition Democracy Fellows. He then signed copies of his newest book, Black Food, a beautiful anthology of recipes and essays from the African diaspora.
Our first Dream Big Salon raised more than $9,000 for Gateway students and teachers, but we're just getting started. Future events in the series will bring together passionate activists, artists and leaders who share our ultimate aim of creating a more just and empowered community. Follow Gateway Public Schools on social media to learn when our next Salon is announced!