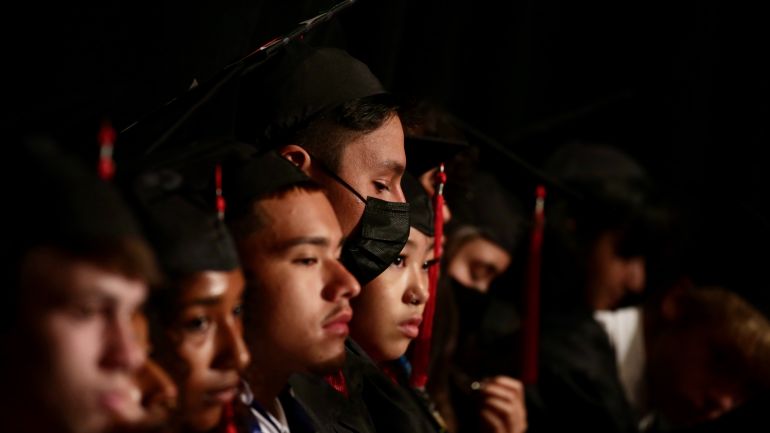 The heart of Gateway's school philosophy is a belief that all students can achieve great things when their unique strengths are truly celebrated and developed – a belief that is borne out every spring when we get to see the wide array of post-high school paths graduates choose for themselves. The students featured here are just a small sample of the big dreams our grads are pursuing – read on and be inspired!
---
Daniela - Telling Marginalized Stories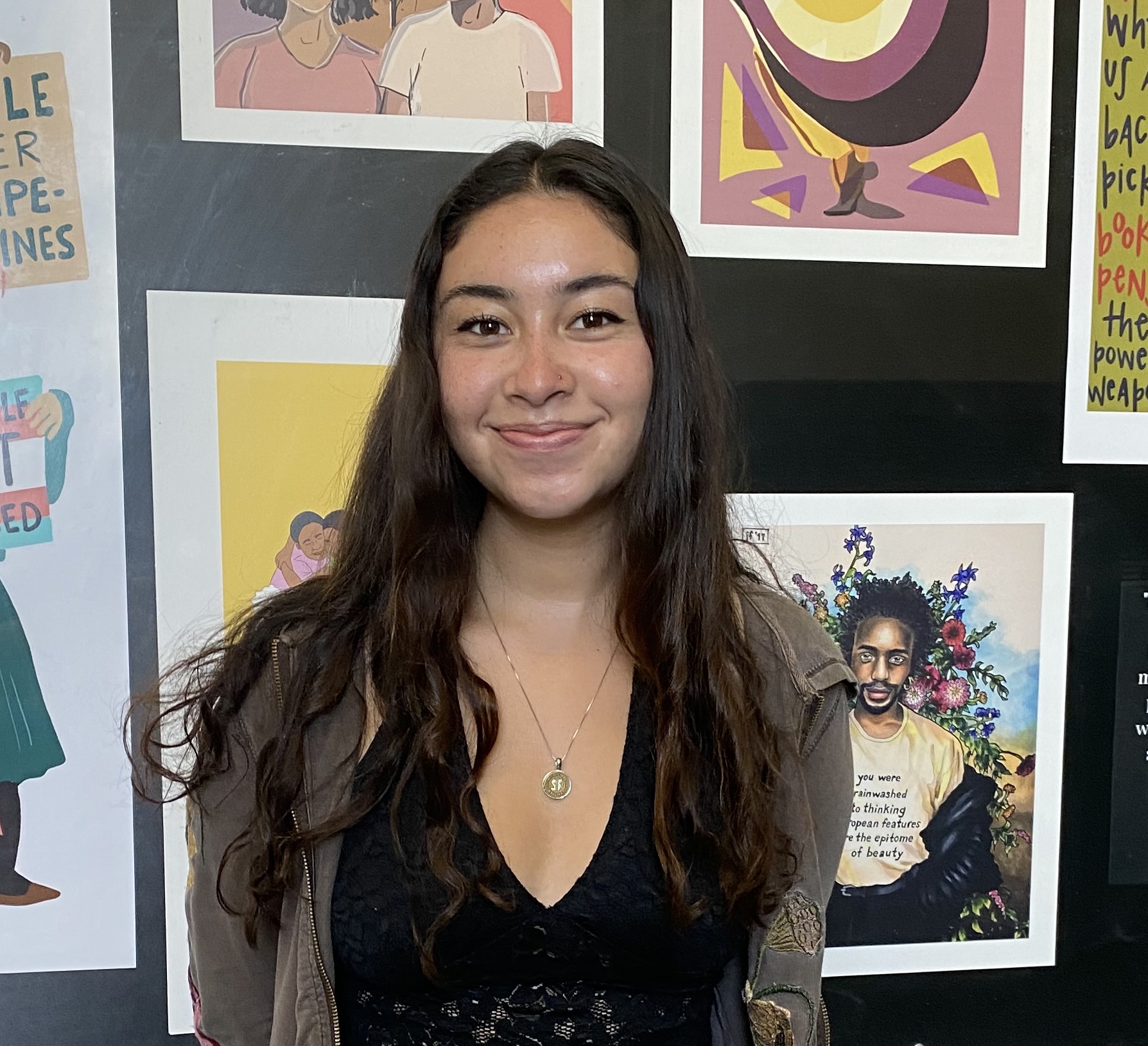 When Daniela applied to USC, she considered a long shot, having decided to go for it almost on impulse a week before the final application deadline. But for an aspiring film student there are few better places to be, so after a whirlwind few days of essay writing, she sent in her app and hoped for the best. For a while that shot seemed even longer as some of her other top schools failed to deliver the good news.
"USC was the very last school I heard from, and I was so disappointed up to that point," she said. "But I came home one day and my mom was acting weird. She said "oh hey, I got you a present," and had all these USC things for me, because she had already seen my admission offer and knew I got in. I was so excited, I wasn't expecting it at all!"
When she heads to Los Angeles this fall, Daniela will be the first person in her family to go to college, fulfilling a longtime goal for her.
"I've always known that I wanted to go to a four-year school, and I'm really proud of myself. My family's really happy for me," she said. "This whole process has been a challenge because I'm the first, so everything that's new to me is new to them, but we're all learning together."
At USC, Daniela plans to double major in communications and film, with aspirations of one day becoming an editor, writer or director.
"One of the things I love about the program at USC is its message of speaking up and telling the stories of people who have been silenced," she said. "I was president of IGNITE (a political advocacy club for young women and femmes), so I'm really motivated to get involved politically."
---
Eileen - Immersing Herself in Something New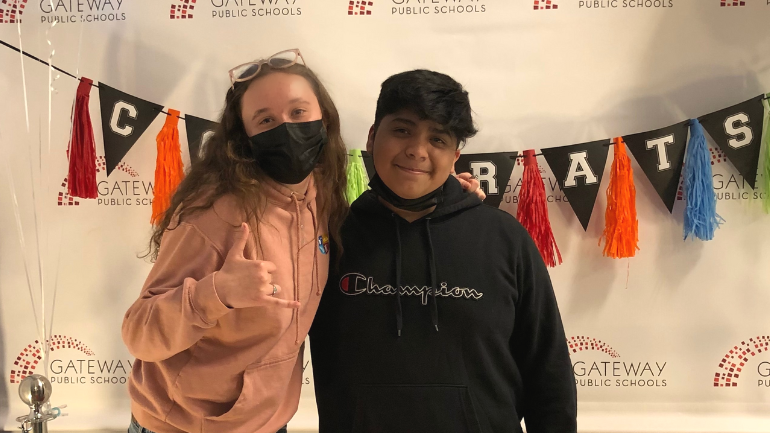 After spending so much time cooped up indoors over the past few years, Eileen was ready for a BIG change. So when it was time to apply to colleges, for her the question wasn't "in-state or out-of-state," but "which country?"
"I'm just ready to experience something completely different," she said. "The more I can immerse myself in something new, the better."
Inspired by her older sister, who is currently attending college in Scotland, Eileen applied to "as many colleges in as many places as I could," before settling on Maynooth University, just outside of Dublin, Ireland, which has 15,000 students from more than 100 countries.
"When I visited over spring break I loved the environment," she said. "It reminded me of Gateway, and I could immediately see myself fitting in there…. Some of my friends think I'm a little crazy for going so far away, but most are very supportive."
A psychology major, Eileen plans to one day become a therapist. In the more immediate future, she hopes to leverage her experience playing women's soccer at Gateway into a spot on Maynooth's team, excited about the prospect of playing the sport in a country where it's taken very seriously.
"I hope more Gateway students apply to colleges in other countries, just go for it!" she says. "You can always come home in a few years, but it's your best chance to experience other societies, and it won't be as hard as you think."
---
Yu Xin - Taking His Time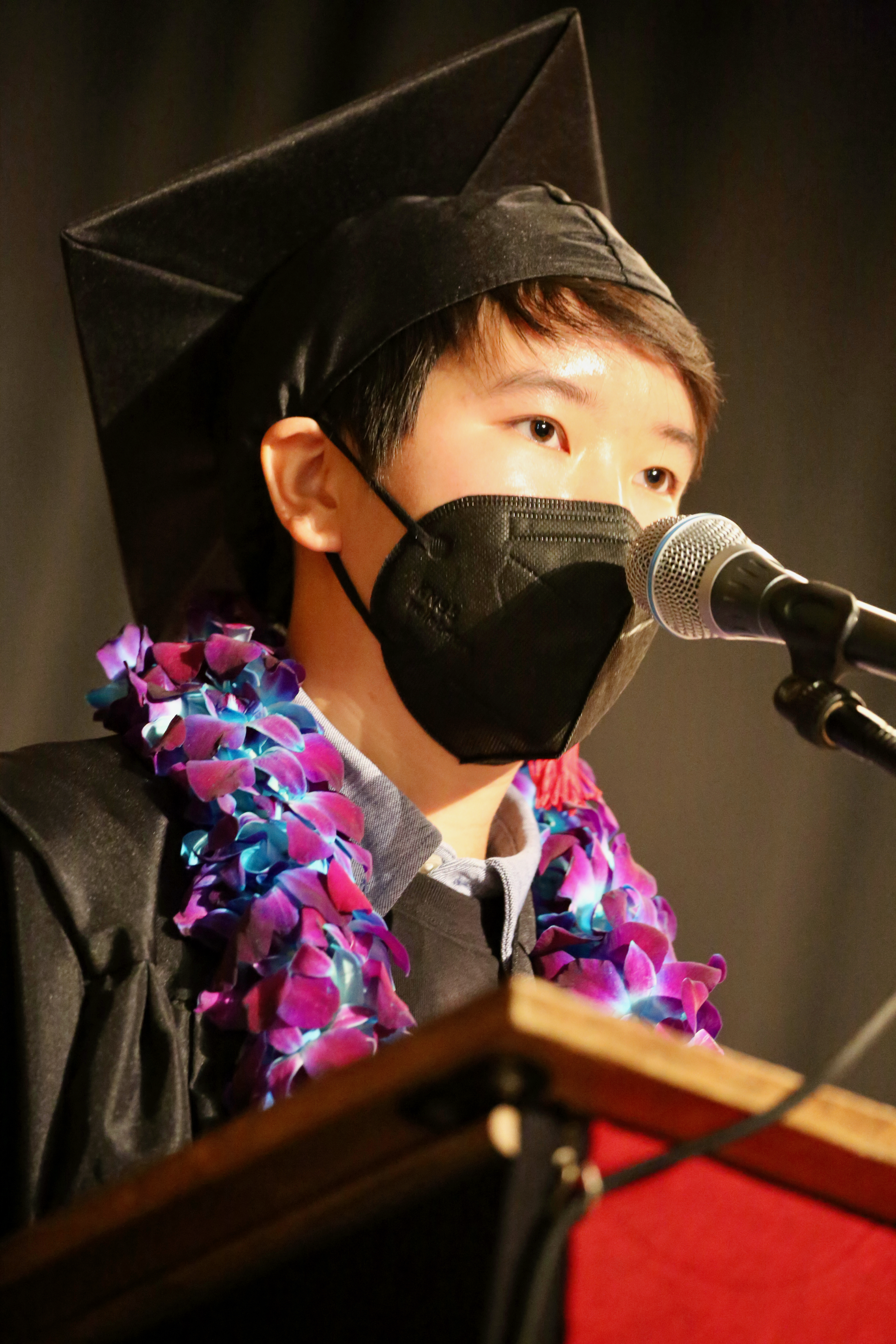 Yu Xin was one of the very first Gateway seniors to nail down his college plans: being accepted early-decision into Tufts University, his top school, saved him from some of the stress and worry of his peers, most of whom wouldn't find out where they were headed until the late spring. But the early admission didn't mean Yu Xin was in a hurry; rather, he's taking a gap year to devote to new adventures and becoming the best version of himself before heading to Boston and the next chapter of his academic career.
"Throughout your whole life once you start school, you have one year after another where so much is happening but we don't get a lot of time to process in between," he said. "My sister ended up taking a gap year even though that wasn't her original plan, and I saw that it was a great way to gain independence and grow a bit before starting college."
As a young trans man, Yu Xin says a gap year is the perfect opportunity for him to complete his medical transition, which will allow him to put his best foot forward with new peers when he finally arrives at Tufts in 2023. In addition, it's his opportunity to travel to Taiwan for a gap-year Mandarin immersion program, which he studied as a child and is eager to pick up again. 
While his interests lean towards the STEM fields, Yu Xin, who received the Highest Academic Award for the Class of 2022, is still undecided about his precise field of study, but he says the confidence he's gained in himself as a scholar at Gateway has set him well on the path to discovering how exactly he'll share his unique gifts with the world.
"My experience at Gateway really changed me," he said. "Before I started here, my grades weren't stellar, and I had no academic confidence. But when I came to Gateway the teachers were so genuinely interested in their fields and enthusiastic about us as students, I was shown that you really can succeed, your capacity is much larger than you think."
---
Jordan - "Don't Underestimate Yourself!"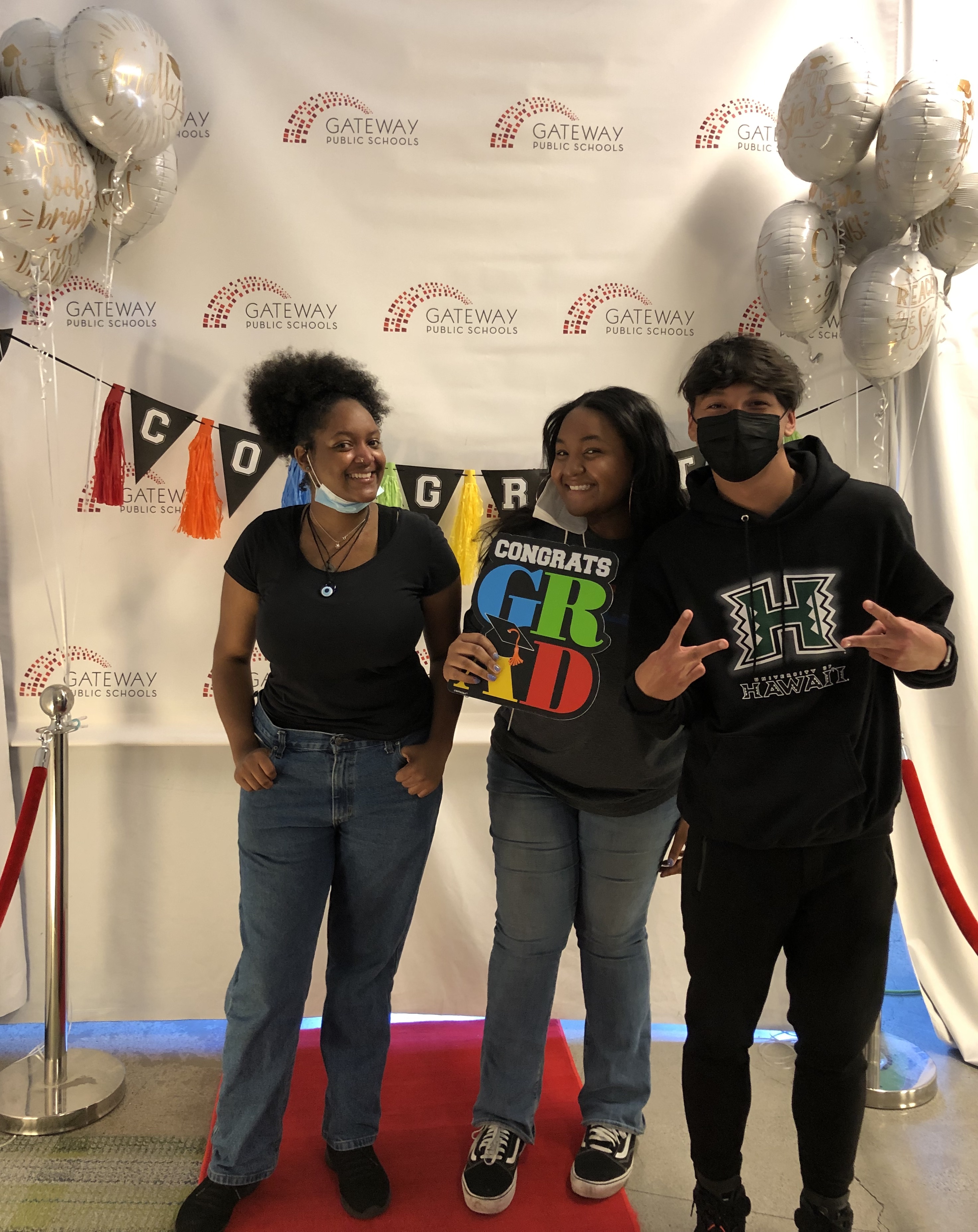 In her time at Gateway, Jordan has just about done it all: Black Student Union leader, yearbook staff, and Youth of the Year contender just to name a few. So it's no surprise, then, that her college search was particularly fruitful: between 15-20 (it became hard to keep track!) schools admitted her, but for Jordan it came down to one big choice: UCLA or UC Berkeley?
"Berkeley is amazing, but at the end of the day I think college is your time to jump into the unfamiliar, and find different parts of yourself to nurture," she said. "If I want to experience something new, I need to go somewhere new." So UCLA it is.
An English major, Jordan hopes to pursue a career in either journalism or law, using her gifts as a communicator to expose injustice and advocate for those experiencing oppression.
"I love to write because I can share messages about communities I'm a part of. Like for example right now we're all talking about reproductive rights, and for me, intersectionality, I'm a Black person and a person with a uterus, and I am a person who is looking at having choices taken away in the very near future," she said. "And a lot of people who look like me are in that same situation. It's important to talk about the fact that we live in a dangerous world, but also that we can influence public policy. Informing people that they have that power, that we're important when it comes to these big decisions."
As she prepares for her next chapter, Jordan hopes the Gateway students who come after her approach their own college searches with confidence and enthusiasm.
"Don't underestimate yourself!" she said. "When you're approaching this elitist system it's easy to overthink things or compare yourself to others. But you're a lot smarter than you think!"
---
Warren - "My Difference is a Sign of Strength"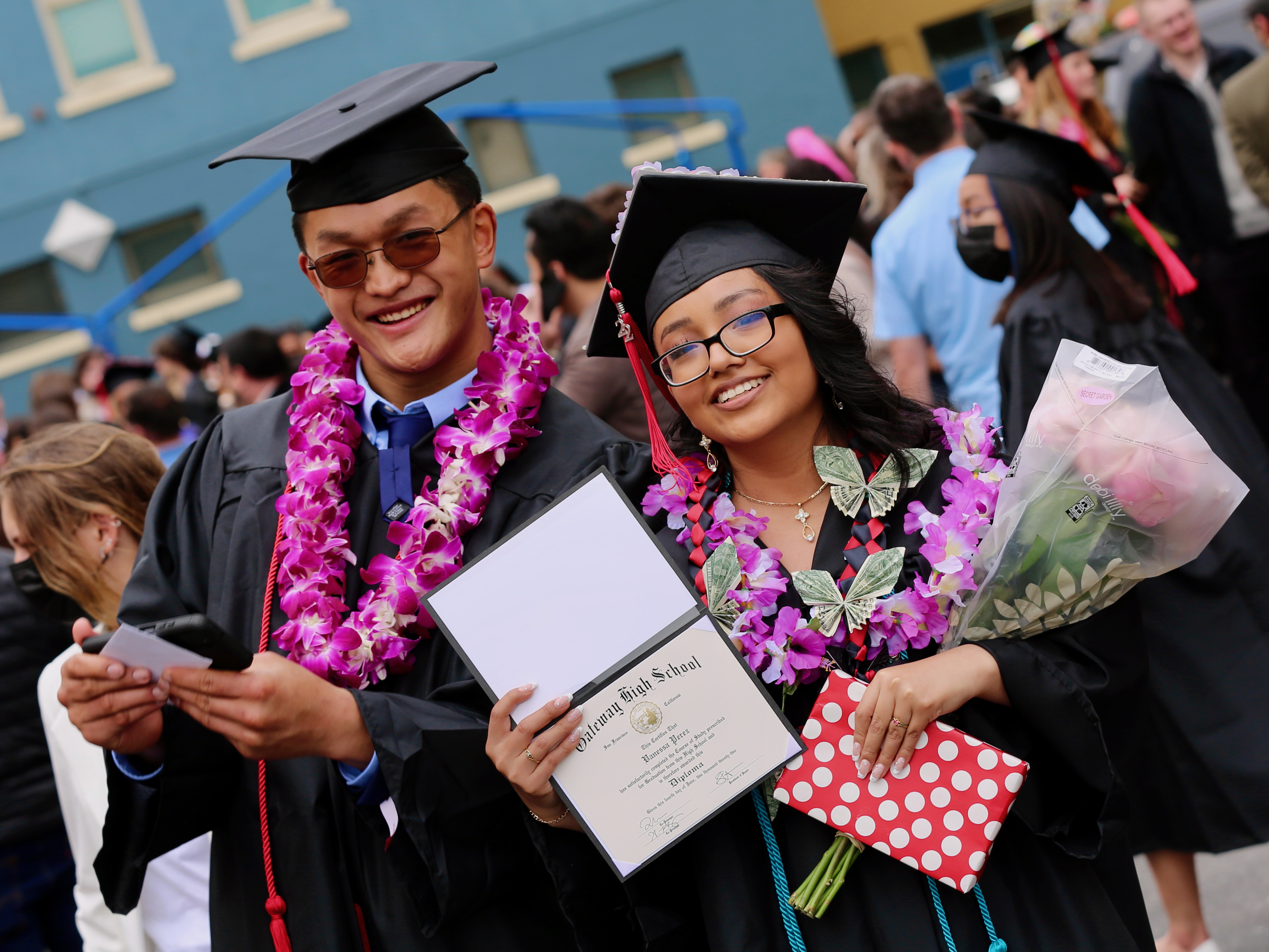 "When I first started at Gateway in middle school, I thought, 'how could I use my learning difference as a sign of strength?'" said Warren, who is neurodivergent. "I understand that most people, when they get diagnosed with a learning difference, they only see the negative impacts. But over my seven years at Gateway I have used the supports available, like easy access to my teachers and assignments, to my advantage, and the emotional support I've received really helped me to forge a connection with my teachers and my peers."
Today, it's easy to see the many signs of Warren's strengths as a learner. His strong academic track record earned him a spot at San Francisco State University, where he'll be the first person in his family to graduate from college. He's planning on studying kinesiology, inspired, he says, by health care workers responding to the pandemic, and sports doctors, who keep their patients performing their best under incredible circumstances. He knows the heavy science course load will be demanding, but says he's learned to appreciate a good challenge.
"At Gateway I feel like I gained the skill set of having an open mind and exposing myself to challenges, like when I took honors chemistry," he said. "It was very fast paced but I knew it was a good option for me, and I was able to really catch up and apply my own knowledge and discipline to learning new content, and understand how each concept is related to my own life and the real world."
While Warren is eager to embrace the new experiences of college life and make new friendships, he knows that his life has been profoundly shaped by his high school friends and teachers.
"I will never forget Gateway because it's been such a wonderful home and community for me, and I owe all my teachers and the wonderful people there a big debt of gratitude for always encouraging me and my peers to strive to do our best," he said. "I will always have a home at Gateway."