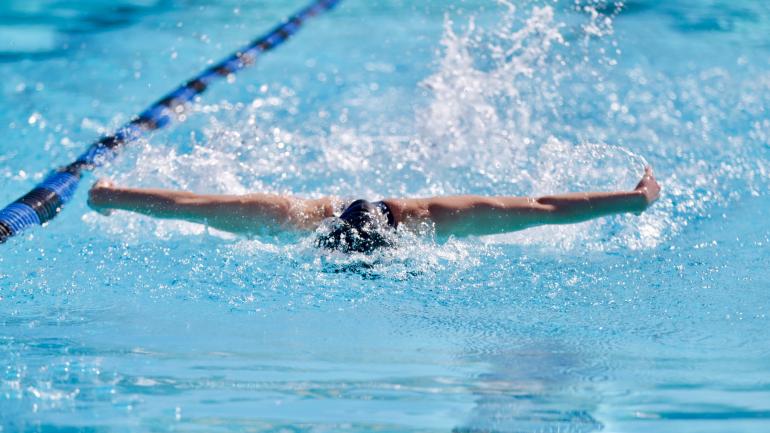 In 2019, Gateway High School added a swim team to its proud athletic tradition, with a small qualifier – it's a team of one. Senior Vivian Redmond represents Gateway at events across the state, balancing a grueling athletic schedule with a demanding academic course load, and it's paid off in a big way: she's been recruited to compete with Wesleyan's distinguished swim team when she begins college next fall. 
Vivian says she took to swimming almost as soon as she took her first dip at 18 months old.
"I used to love pretending to be a mermaid – sometimes I still do!" she said. "It's refreshing and helps me relieve stress, and I like the way you feel after a workout in the pool. You definitely hurt all over, though!"
She began swimming competitively at eight years old, gradually phasing out gymnastics, soccer and piano lessons to focus on swimming full-time in the 8th grade. For most of her career, she has swum with San Francisco's Olympic Club, where she earned the prestigious Junior Athlete of the Year Award in recognition of her positivity and outstanding commitment to her team.
"There's an idea that swimming is such an individual sport that it can sometimes get negative, so I was really proud to be recognized for building a positive atmosphere," she said.
Vivian was inspired to approach Gateway about swimming on the school's behalf by a friend, who worked out a similar arrangement with her own school's athletic department. Representing Gateway allows her to compete in events she wouldn't otherwise have access to and brings a little aquatic glory to a campus whose own swimming pool was filled in years before GHS called it home. Vivian may be Gateway's lone competitive swimmer, but she says she doesn't lack for team spirit thanks to the friendships she's formed with the girls' basketball team, with whom she shares a bond over the shared experience of balancing school and sports. 
And it's quite a balance! Vivian practices every weekday after school until 6:30pm and on Saturdays from nine-noon; she gets some Sunday off, but from November to March two of those Sundays are devoted to competitions each month. In the summer, it's not unusual for her schedule to include two practice sessions a day. Add to that the rigors of an AP-heavy course load at Gateway and you have one disciplined teenager.
"I'm constantly studying – during free blocks, at lunch, downtime in class – but it's important to make time to eat well and get enough sleep too," she said. "People ask me 'how do you do it?' all the time and I really don't know! But a big part is keeping everything compartmentalized; when I'm at school, I'm 100% focused on school and using every spare minute to get schoolwork done."
Vivian credits Gateway staff for offering her the support and flexibility to thrive both in the classroom -- she's taken virtually every honors and AP course Gateway offers -- and in the pool. 
"My teachers have always been supportive of my schedule, and they're the first to say 'wow that's so exciting for you!' when I have an opportunity to compete," she said. "The administration worked with me so I could take Spanish 3 over the summer and free up a block this year to study for my AP classes. I know not every school can be flexible like that."
At Wesleyan, Vivian hopes to compete in the NCAA National Championship as she hones her skills with her new team. She's planning on double majoring in political science and molecular biochemistry, but is open to changing her plans as she discovers new passions as a college student.
"I've discovered so much about myself as a learner at Gateway, and I'll be taking the tools I've learned about how to manage my time, and the work ethic I gained, with me to college," she said. "Gateway made me love learning, and I would not be where I am without my experience here."