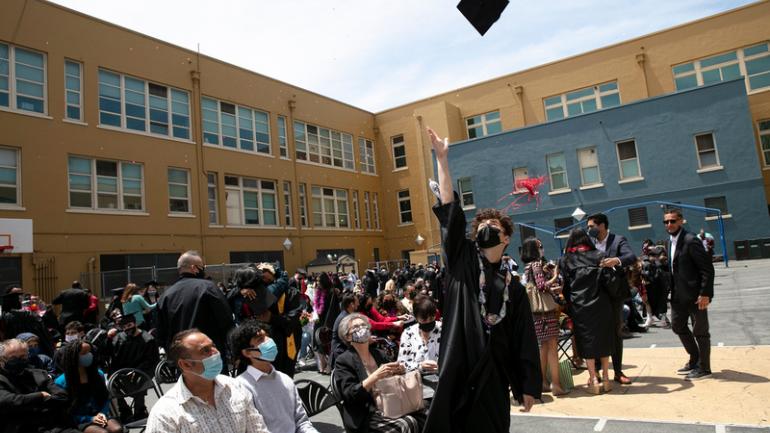 After 16 months apart-- more than their entire final academic year as high school students -- Gateway High's seniors reunited, along with family and friends, to bid farewell and celebrate their extraordinary accomplishments at the Class of 2021 Graduation Ceremony held on June 5. Gateway's first large, official gathering since campuses were shuttered in March 2020, it was an emotional morning as students, faculty and families reflected on challenges of the past year.
In order to send off the graduating seniors in style and safely, numerous changes were made to the traditional ceremony plans at GHS. The ceremony was moved from the auditorium to the school courtyard, with families and graduates sitting in socially-distanced pods and a program that kept close contact to a minimum. For the first time in GHS history, the entire ceremony was live streamed on YouTube for those unable to attend in person; as of this writing, more than 2,000 friends and family watched the ceremony and left well wishes from all over the world.
Evan Bass addressed the graduating class as the faculty speaker, and students Jonathan Miller and Ahlaya Martin gave remarks on behalf of the student body. 
"I feel so lucky to go to school with a tight-knit community where everyone knows you, sees you, and cares about you," said Ahlaya.
As in previous years, a major highlight of the ceremony was the presentation of awards designed to honor students who embody Gateway's highest values. This year's honorees are:
The Respect for Differences Award - Precious Billops
The Service to Community Award - Yana Vaynshteyn
The Shared Responsibility for Learning Award - Chloe Davis
The Model of Integrity Award - Anta Diagne
The Mission Award - Evelyn Orellana
The Resilience Award - Isaiah Sanabria
Seniors also receive awards celebrating academic achievement. The Highest Academic Award was awarded to Isabella Yee and the High Academic Award went to Yana Vaynshteyn, traditional recognitions for the graduating seniors with the highest and second highest GPAs, respectively. In addition, Gateway faculty distribute several awards for excellence in specific academic disciplines, awarded this year to:
Science (Physical) - Itzel Vargas
Science (Life) - Lizandro Chan
Pure Mathematics - Zachary Gee
Applied Mathematics - Sander Gonzalez
Humanities - Anna Assuncao and Emmeline Hofland
Performing Arts - Kylie Panday
Visual Arts - Pacaldo Marvelous
Spanish Language - Emma Kishimoto
Heritage Spanish - Abril Aguilar
Congratulations to all of the outstanding graduates! We cannot wait to see what these incredible young men and women accomplish as they begin their next chapter.