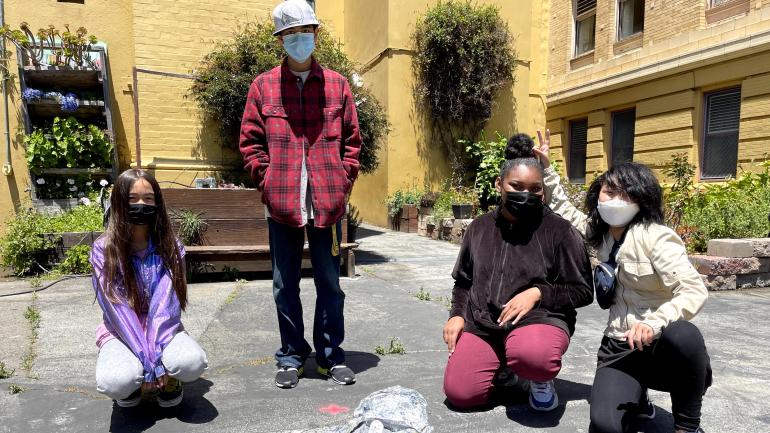 The GHS campus will be bustling with activity all summer long this year as the popular summer program co-led by the University of San Francisco and Gateway Public Schools is officially slated to return for its second year, offering middle school students a chance to get a leg up on academics and socialize with peers in a fun, supportive environment.
"The USF Summer Academic Program has been a great opportunity for Gateway Middle School students to get re-engaged and excited about learning during the summer," said Gateway's Director of Schools and Partnerships Aaron Watson. "Students build relationships with peers and positive connections to school through the project based learning model that makes summer learning fun. And students report that the teachers from USF have been amazing!"
Initially designed to assist students with the potentially challenging transition back to campus after a year and a half of distance learning, the summer program was so effective and in-demand that it is not only returning but growing, serving an additional 15-20 incoming sixth grade students, in addition to 45 rising 7th, 8th and 9th graders. Students explore fun hands-on projects in subjects like storytelling, art, and engineering, with additional plans for community field trips this year.
"The teachers are so amazing," said one sixth grade participant from last year's cohort. "The fact that they offer something like this is great because I had a hard time in quarantine, a lot of kids did, and they were willing to help. It just shows that they care."
Each class is led by two USF student teachers who receive support from seasoned Gateway educators, making the program a win-win both for the students who participate in the program and the teachers-in-training who receive valuable classroom experience and mentorship.
"Having support from a (Erin Hartfield, GHS Academic Interventionist and Summer Site Director) was really helpful because she knows the culture of the school and the communities that they serve," said Jessica, one of USF's student teachers. "I really appreciate Gateway in general for opening their doors to us and trusting us with their kids. Also, having the support of other USF teachers with us was really nice because we have each other to lean on."