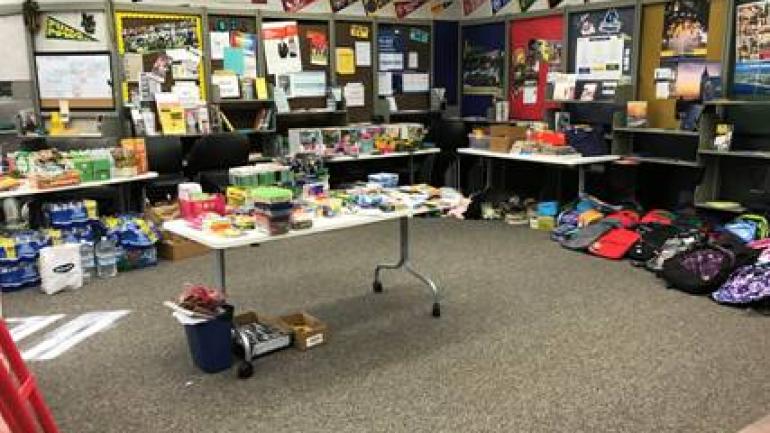 The Gateway community recently came together to collect and donate school supplies and gift cards for families, students, and teachers in the Santa Rosa City School District who were impacted by the Northern California Wildfires.
Items donated included two car-loads of backpacks, school supplies, independent reading books, and nearly $4,000 in gift cards and cash. 
The initiative was organized and led by Gateway Middle School teachers Ms. Elizabeth Colen and Ms. Taylor Pennewell, who have a personal connection to the Santa Rosa community. 
Over 800 students across 23 schools in the Santa Rosa City School District lost their homes in the wildfires. According to Trish Terrell, an English teacher at Maria Carrillo High School who partnered with Ms. Colen and Ms. Pennewell to organize the drive, Gateway's donations helped provide these families with much needed clothes, supplies, and backpacks. 
In addition, the Santa Rosa City School District was able to help 100 families in the area through a donation store as well as 117 students outside of the district who needed supplies. Teachers who lost their classrooms from Hidden Valley Satellite School and Roseland Collegiate Prep were provided with supplies and materials to help rebuild their classrooms as well.
"We really appreciate how our community has come through for us in this crisis, and we are so thankful for your time and generosity," said Terrell in a letter to the Gateway community. 
Taking action to improve the community, lending a hand when someone needs help, and standing up for what is right are at the heart of Gateway's core values.