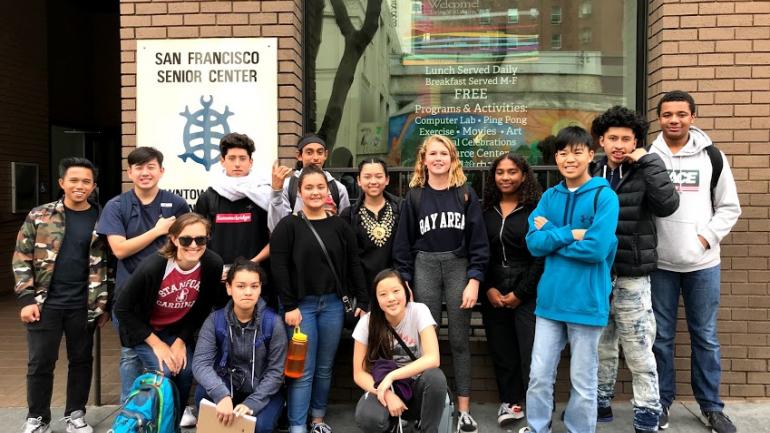 The entire Gateway High School community came together to help advance the work of more than 10 local nonprofit organizations during Community Service Day on September 28, 2018.
"Community Service Day is an important part of Gateway's programming as it offers students the chance to learn more about our community and give back," says Rachel Kamen, Director of Partnerships at Gateway. "The idea behind Community Service Day is that students have the chance to bond as an advisory group while also becoming lifelong community advocates and conscientious members of society."
Community Service Day is so important to Gateway High that it has been a long standing tradition and has since been implemented at Gateway Middle School.
Every year, students work with their advisory groups - small groups of students from each grade assigned to a faculty member - to design and plan a project that addresses a social need in our community that the group feels passionate about.
This year's projects included but were not limited to :
GLIDE: Students helped serve a meal to hundreds of people in need who participate in GLIDE's Daily Free Meals Program.
 
Golden Gate National Parks Conservancy: Students planted seeds, cleaned up litter, and maintained trails to preserve and protect the natural spaces in San Francisco.
 
At The Crossroads: Students helped package and organize supplies such as socks and toiletries which counselors distribute to homeless youth and young adults.
 
Cobb Elementary School: Students read to elementary aged students gaining integrity and the critical thinking and leadership skills to be agents of change for a more equitable future.
 
Northern California Presbyterian Homes & Services (NCPHS): Students led group BINGO by playing and calling out numbers with residents in the senior community center.
 
Booker T. Community Service Center: Students cleaned-up, decorated, and supported the Community Service Center that primarily serves low-income children and their families.
According to Kamen, "students appreciate having the time to learn more about their community and the social justice issues that impact the world they live in. They also enjoy having fun with their peers outside of the classroom while giving back."
Eleventh grade student, Jesse Luna-Abrams, spent his community service day restoring plant life in the Presidio. "It was really cool to experience nature in an urban area. I feel lucky to live in a community that respects and appreciates nature. I plan on staying involved and volunteering on my own outside of school," says Jesse.
Hannah Fong, also an 11th grade student, felt like she made a true difference in someone's life during her community service day experience at NCPHS. "I played BINGO with residents in the senior community center and was able to communicate with a Cantonese-speaking resident who wouldn't have been able to participate in the game without my help. I was able to translate the numbers for her so she had a chance to play BINGO instead of just watching everyone else play."